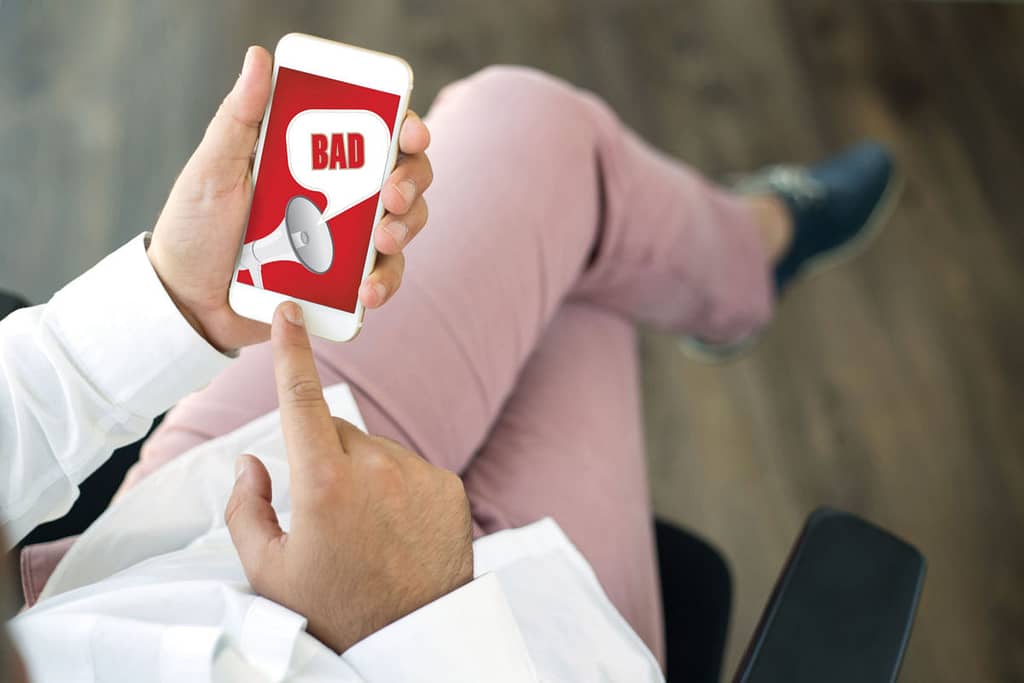 Mistakes happen – it's part of what makes us human. And part of being a business owner is understanding that no matter how on top of your game you are, someday you will encounter an unsatisfied customer who will leave a negative review.
The good news is a little tarnish can actually help to enhance your authenticity. Statistics show that 90% of people will read up to 10 reviews to see if they can trust a business – and if there aren't any lukewarm reviews, it can come across as suspicious.
We're sure in your own online research you've probably come across a handful of 5-star businesses with so many glowing reviews that you may find yourself wondering if they were all written by family and friends.
Or if you're like us, you sleuth a little further, clicking on those names to determine if they are just fake profiles designed to boost a bad business by burying their burdens in a pile of over-the-top praise.
Online reviews are the digital version of word-of-mouth advertising, which makes them especially powerful. It's no wonder that 84% of people will trust an online review as much as a personal recommendation.
While it might elicit an initial pang of panic when you first come across a bad review about your business, the key is in how you respond. In fact, when done right, you can even leverage a negative review into a positive opportunity for your brand.
Don't take bad reviews personally
Maybe your customer just needed to vent, and their rant veered out of control. Regardless, getting defensive is definitely not the appropriate course of action! If you're feeling a little heated, take a beat and reply when you are less emotional.
Addressing a bad review gives the public a chance to see how much you care about every customer's experience. You will automatically win more hearts and minds by allowing your positive personality to shine through.
Always respond quickly to acknowledge the issue
The tricky thing about reviews is that they often appear time-stamped on third party sites. A bad review that goes unacknowledged for more than a week or two sends the message that you don't care.
If you do not have time to respond to reviews yourself, ensure that someone on your team is assigned with taking a little time out of their week to check Yelp, Facebook, and other relevant platforms to see if anything has cropped up. Have them introduce themselves and their connection to your business, thank them for taking the time to write, and then appropriately acknowledge the issue.
Alternately, a few words of thanks in response to kind reviews can also go a long way in transforming new customers into loyal patrons.
Know when to apologize and when to say you're sorry
Not all bad reviews are a result of someone making a mistake. Sometimes it's simply a matter of preference, which is beyond anyone's control. Some people aren't happy with the choice they made, and they feel the need to share the error of their ways with the world. That's fine – to each their own.
When the review is due to an error or bad experience caused by your business, apologize for the inconvenience and offer to rectify the situation with either with a discount, promotion, or refund.
When the review is due to something beyond your control, tell the customer that you're sorry they were unhappy with their experience and assure them that you take all feedback into consideration. That way the reviewer at least has the satisfaction of feeling heard.
Be authentic, empathetic, and concise
How you handle a poor review says a lot about you. Each customer is unique and deserves individual attention. A copy-and-paste form letter is nearly just as bad as not responding at all. It suggests you're too busy to reply and makes your business appear cold and uncaring.
Be authentically you and personalize your reply to address the reviewer's concerns as you would with a friend – employing empathy and understanding. Keep your reply concise and include a short explanation that emphasizes your company's values, then invite the customer to continue the conversation offline.
Turn a negative review into a testimonial
After you have made the effort to remedy the situation, follow-up with the reviewer to ensure the issue was resolved to their satisfaction. If it was, ask if they could provide a public response. Nothing is more powerful than seeing an angry customer provide a happy testimonial after a company has taken the time to hear them out and make things right.
Doing so puts future customers at ease with the knowledge that if something similar should unfortunately happen to them, they can rest assured that you won't turn your back on them.
Have you ever left a bad review? How was it handed – if at all – and how did it make you feel?
Everyone who invests time or money into a product or service and is left feeling unsatisfied wants an outlet to express their disappointment. While word-of-mouth reviews took a lot longer to travel back in the day, these days online reviews can destroy a company's social currency in a blink.
That's why it is more important than ever before to quickly diffuse any resentment by remedying customer complaints in an authentic, friendly, and appropriate manner – not only to win back the unhappy reviewer and hopefully make them a constant customer, but also to win over others who are researching your business in the future.
*Statistics source at Broadly.