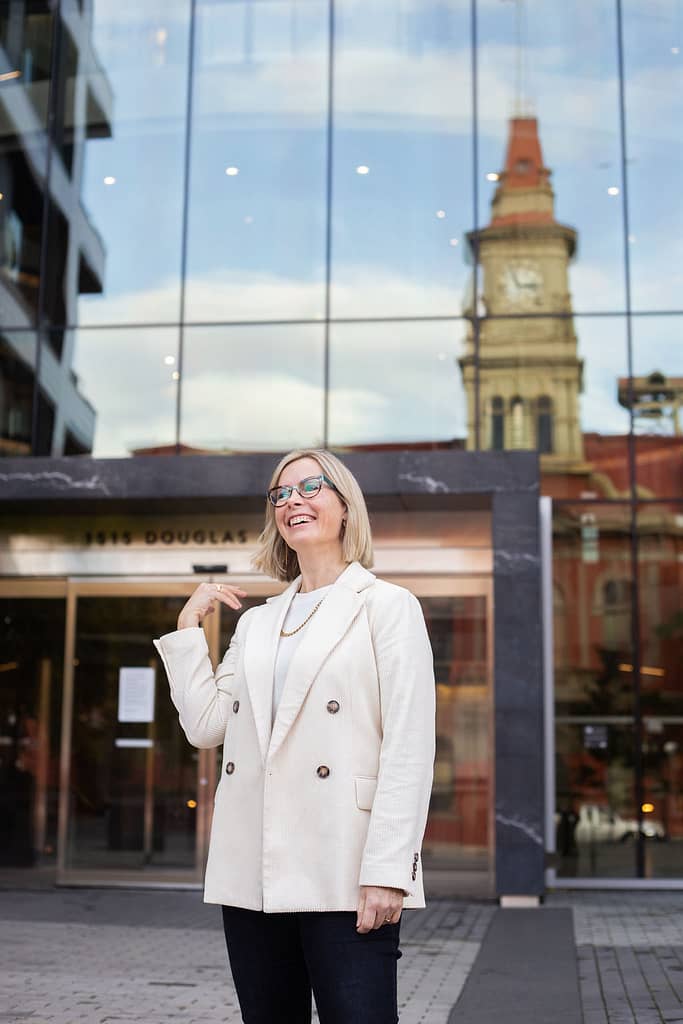 We are all professional promoters when it comes to the things we love, whether it's a favourite restaurant, cleaning product, or vacation spot. We shine our social media spotlight onto it, so everyone knows why *insert person, place, or thing* is so darn amazing.
So then, why is it that we often feel uncomfortable when it comes to drawing that same sort of attention to ourselves?
I (Amanda) wanted to explore this subject because I'm the world's most awkward person when it comes to stepping into any kind of limelight. You might be surprised by this because I used to be an on-air personality. I hosted daily soap opera updates on my local television station, as well as occasionally filling in as morning show host.
I became used to being in front of a camera, but my enjoyment never came from seeing myself on television (I avoided doing that as much as I could). Rather, it came from communicating information and entertaining our viewers.
The other night, I had to give a speech and I was so freaked out at the idea of a bunch of people looking at me that I sweat so much I thought everyone would notice (they didn't thankfully). I feel like I'm not important, but I try to do important work – so I much prefer to shine the spotlight on other people.
This is why I just can't when it comes to shooting video of myself doing anything. Posting Instagram stories or reels or TikToks of me giving marketing advice are definitely out. I can write a blog and publish it as long as I know it's going to help someone else, but that's the extent of me 'putting myself out there.'
I'm actually quite envious of people who have no compunction about being out front, sharing their stories and faces on social media. I wish had a) the interest, b) the confidence and c) the feeling that what I have to say matters.
I know there are others out there like me – and I know there are business owners who'd rather not get that personal with their brand, or who are as camera-shy as I am. If you're one of those people, this blog is for you!
I'm giving you advice I really should take myself.
What is holding you back from self-promotion?
Take a moment to reflect. Why do you feel yucky about tooting your own horn?
In my case I'm seriously too Gen Z, aka Before Screens. What's your excuse? Do you think you'll sound conceited? Maybe embarrass yourself? Why not have fun with it — why so serious? (good question!).
We all have at least a handful of artists, multi-level-marketers, and entrepreneurial go-getters in our feeds showcasing the products they are selling. When you see their posts, do you give them a like or roll your eyes?
If you find yourself doing the latter, then be honest with your feelings and ask yourself why. Is it out of some sort of subconscious envy that they have the confidence, vulnerability, or tenacity to put their dreams out there and chase a goal?
Identify what is at the root of your judgement and then use that insight to flip the script on yourself. If you are feeling jealous of your self-promoting friends, try using that as fuel to build your own confidence and persistence to be more like them.
Break down the barriers and ask them how they overcame their own bundle of nerves. Chances are you'll discover they were once in your shoes too.
Even if you feel the need to fake it 'til you make it until you are comfortable with the whole self-promo thing, the key is to still stay true to your real and authentic self in everything you post. After all, self-promotion all begins with your own online social circle of peeps who know you best and love you for you.
Over time your audience will grow into a community of steadfast supporters who also love what you have to say. But no one can cheer for you until you get out there and put some skin in the game.
Know your audience
Every product and service either fulfils a need by solving a problem or making people feel better in some way. So, who needs to hear from you?
Get acquainted with your desired target audience by creating an ideal customer persona. Start by giving them a name to make them feel real. Next, compile a list of details such as their gender, age, location, education, and relationship status.
What does their average day look like at home, work, and play? Have fun getting into all the details about their friends and family, their hobbies and interests, as well as their personal and professional goals.
Finally, write a little bio that explores who this person is in relationship to all these details, including why they would buy your product or service. Write a few profiles to flesh out the different types of customers you would expect to find in your desired community.
By narrowing down your target audience to specific demographic and psychographic information, you won't waste your time and energy with a shotgun approach that attempts to speak to everyone.
Your customer personas will not only increase your comfort level when engaging with your audience, but will also help you to create the sort of imagery and text that will resonate best because you know exactly who you are talking to.
Find your format
Now that you've identified who you are speaking to, you need to figure out what format best suits your strengths. Even if the idea of self-promotion is coaxing you out of your comfort zone, you don't have to dive off the cliff completely.
For instance, if you've got a knack for writing, you might want to start a blog. Using this format, you can offer helpful advice and showcase yourself as a trusted expert in your field. Share your blog on social platforms like Facebook, LinkedIn and Twitter – or wherever your audience is found. You'll also want to ensure that your blog is search engine optimized to draw more people back to your site.
If you have a sparkling personality and a gift for gab, posting videos might be more your thing. Create clever reels on Facebook or Instagram showing the behind the scenes of your business or explore Live Feeds to engage directly with your audience in real time. Starting a vlog is another way to share your knowledge with the world.
The Birds Papaya influencer Sarah Nicole Landry is the perfect example of how to share your authentic self with the world. She's fearless, funny and out there in the best way. Follow her on Instagram for inspiration.
Got a great voice and a pocket full of contacts? A podcast might be fitting if your business calls for it and you can easily line up a wealth of specialists willing to chat on a regular basis. Free software like Audacity makes recording and editing a podcast easy.
Explore your options, research best practices, and see what is the most natural fit.
Engage with your audience
A community doesn't build itself. You must be an active participant. It's one thing to schedule a series of posts to promote your business. It's another thing to show that you are a real live person who wants to create meaningful connections.
Easy ways to put yourself out there and personalize your brand is to comment on and reshare others' posts. Attend online events to show your support. Ask questions. Respond to your audience's comments and DMs in a timely manner – and don't be afraid to send DMs yourself. It's a great way to create a more personal dialog with other business owners and personalities you admire.
Let them know why you liked their post or ask for advice. You never know where your next exciting new contact or opportunity may lie. But once again, above all else, be authentically you in all that you do.
Remember, the more you engage with your community, the stronger your connections will grow, the louder your supporters will become, and the faster all the icky self-promotion awkwardness will fade into the background.
Expand your network
You can grow your audience even further by identifying influencers and like-minded people in your field, then leveraging on their established communities. Take note of what platforms and hashtags they use. Get to know them and explore the possibility of doing a cross-promotion as guest bloggers, a video collaboration, or by participating in each other's podcasts.
As mentioned earlier, we are all natural promoters when it comes to marketing others versus ourselves. It's always easier to blast the benefits about something you love in exchange for someone else singing your praises for you. Because cross-promotions are a great way to introduce each of your businesses to a larger pool of people, they are a win-win for everyone.
All it takes is a deep breath, a dose of self-compassion, and some consistent time and effort to launch yourself from backstage and into the spotlight. At this very moment in time, people are searching for you online. Isn't it time to give them what they're looking for?
(hmmm … I've almost convinced myself to make a reel …)