(and why we set up shop here)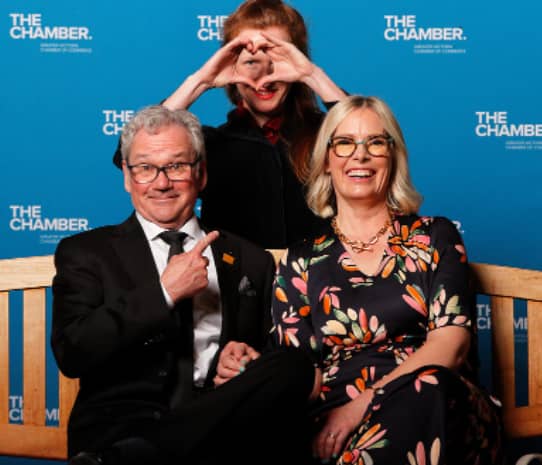 Between the two of us, Bruce and I have called Vancouver Island home for over 30 years, dividing our time between the south and central Island. Both of us come 'from away,' he from Ontario and I from South Africa (via England).
Both of us have come to cherish the Canadian version of Island life and the unique opportunities it has afforded us.
If you live here, you too know that Vancouver Island is a special place, renowned for its stunning scenery, favourable climate, and a laidback lifestyle. Artists, crafters, and nature lovers alike looking to escape the chaos of the city can be found cultivating inspiration on its sunny shores, contributing to the long-held stereotype about what it means to be an Islander.
With that in mind, it's no surprise that seven Vancouver Island cities have made it onto Maclean's list of Canada's top 50 best communities to live, due in part to their affordability, low crime rate, vibrant culture, community engagement, and commuting options (with over five per cent of residents reporting that they cycle to work.) And yes, this despite the pandemic pushing house prices up and affordability down. The Island is not alone in that conundrum.
While the Island has its advantages when it comes to providing a high quality of life, it's also a great place to set up shop and run your business. It's home to an incredible array of diverse industries and businesses (see Douglas magazine's 10 to Watch awards for startups rocketing their way to international success) with many having not only a local but a global impact.
Live Local, Think Global
Many companies went online to stay afloat during the pandemic. So, the old myth that living on an island isolates you and limits opportunities for growth is exactly that, a myth. These days you can do business from anywhere. A website, some ecommerce software, and a solid social media strategy, and you're up and running.
B.C.'s capital, Victoria is thriving with entrepreneurs and start-ups, boasting the most restaurants and micro-breweries per capita, as well as a buzzing tech industry. Traditionally known for its carriage rides and whale watching tours, the area's tech sector now produces twice as much revenue as the tourism industry.
Furthermore, as small businesses make up 98 per cent of all businesses in B.C., the City of Victoria's 3.0 action plan for 2020 – 2041 is directly focused on supporting small businesses and boosting the local economy in exciting and sustainable ways.
Best & Brightest
Greater Victoria is not only the seat of provincial government but also boasts internationally recognized post-secondary institutions: University of Victoria, Gustavson School of Business, Royal Roads University, as well as Camosun College with its trade and apprenticeship programs.
We've had the privilege of working with them all over the years and are always impressed with the high-calibre of learning opportunities and the alumni who've gone on to become impactful entrepreneurs, scientists and researchers.
Community Collaboration
When you live on an island, there's a heightened sense of community. What we love about living here is that business owners have no problem supporting their competition, so everyone thrives. As Bruce often says, 'a high tide raises all boats.'
During the height of the pandemic when restaurants were hardest hit, local business leaders from the City of Victoria Restaurant and Food Services Association, Destination Greater Victoria, Downtown Victoria Business Association, and the Greater Victoria Chamber of Commerce came together to launch a Picnics and Patios promotion to help stimulate the industry. The success of the project was due to the incredible relationships our business community has with each other.
I also worked with Page One Publishing on both a business blog following Victoria business owners as they responded and pivoted through the pandemic, and on a CHEK TV interview series called Conversations in a Crisis, later Road to Recovery, detailing how business is coping with our new normal.
We've come across inspiringly resilient people who won't stay down in a crisis, and who leverage the challenges we're facing today into opportunities for a better tomorrow.
South Island Prosperity Partnership (SIPP), one of our clients, has a mandate to grow regional prosperity and is also an example of community collaboration. SIPP is an alliance of over 70 local organizations, including First Nations, municipal governments, entrepreneurial businesses, major employers, community and business organizations, academic institutions, and non-profits, that are inspired to create a resilient, diverse, sustainable, and inclusive regional economy.  
I work with them on their annual Rising Economy Week conference, an event open to all that challenges assumptions and engages in bold conversations around a prosperous future.
Meanwhile we're also inspired by MakeShare, a project developed by the Local Arts + Culture Society of Victoria fosters a community of collaboration and innovation as an online arts hub and creative directory that offers exposure to local makers and creators. The membership-based resource makes it easy to "buy local goods, hire a designer or skilled craftsperson, connect maker to maker, collaborate on projects, share spaces + resources, (and) create community."
We Always Shop Local
We, along with other Vancouver Islanders, are huge supporters of local businesses (most especially Bruce, who is currently CEO of the Greater Victoria Chamber of Commerce).
As an environmentally friendly region, showing local love is an easy and feel-good way to reduce our carbon footprint, while lifting up our neighbours.
Aside from the various Chamber organizations in the south Island, others like Think Local First offer Victoria area businesses the opportunity to gain exposure and collaborate with other locals, while other collaborative initiatives like Explore Next Door have encouraged Islanders to visit and promote neighbouring communities. 
We're also big foodies (which is why helping launch the Island Good brand a few years ago was such a special project for us). We love that Vancouver Island boasts all kinds of home-grown producers with local markets found in nearly every city.
Some of BC's top farmer's markets can be found on Vancouver Island, thanks to a temperate climate and ideal farming conditions, meaning you can put your money directly into the hand of the person who sowed your grocery's seeds.
As business owners, Bruce and I are most proud of the overarching belief here that there is always enough success to go around. When we support each other, everyone wins!
– Amanda