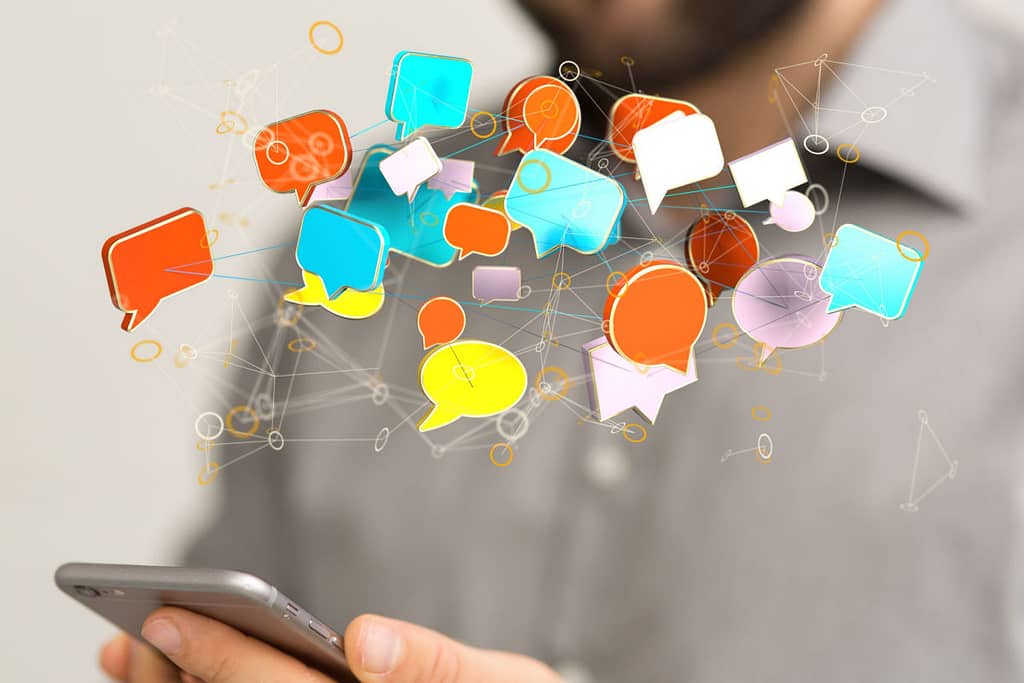 An active social media presence can be extraordinarily helpful for boosting your business. It's easily the most effective way to expand your reach, inspire new interest, and form a connection with your people.
We liken it to having a conversation with your prospective and current customers – a way to personalize your brand and create that human connection we all crave.
You already know having a social media account isn't enough. You need to know how to work it! You're not running your business on a wing and a prayer (we hope!) so you shouldn't tackle your social media posts without a plan.
Here are our top tips to ensure you are getting the most out of your social media accounts.
Find your alignment
You know your business best. So, you should also know who your customers are and how to connect with them. Start by Identifying areas where your values and interests align.
For example, if you sell environmentally friendly solutions, certain news stories may reflect your audience and business's shared values.
If you sell used cars, your audience might be interested in an article about ICBC launching online insurance renewals.
Every post should have a purpose
Sometimes it's nice to post news stories, inspirational quotes, or funny memes if they are on brand. But a wall of jokes or content linking to third-party sources doesn't build your business.
While these types of posts keep you in news feeds, ultimately you need to stay focused on your end goal. Do you want people to visit your website, join your mailing list, or take advantage of a special offer?
Write a clear call to action (CTA) that specifies what you want your followers to do next.
Mix CTA posts with others that are not directly sales-focused, so your audience is never bombarded with salesy posts.
And calls to action that sound easy or fun get more traction than those that sound like they will take some effort. Use language like "Start shopping" instead of "Learn more", or "Join us" versus "Register now".
Engage with your audience
If you aren't keeping your social media content up to date or are ignoring comments and DMs, it gives the impression that you are either out of business or simply don't care.
Respond to all comments and mentions promptly. Building the community is vital for conversions.
It's also good practice to check who is mentioning, interacting, and liking your content but not following you – then make sure to invite those people to like your page.
Reaching out shows potential followers that you are paying attention to them and actually care — a good start to building a lasting connection!
Ads should be clear, compelling, credible, and exclusive
When creating an ad for your business, ensure that it answers these four important questions for your audience:
Clear – What is the offer?
Compelling – Why do I want it?
Credible – Why should I trust you?
Exclusive – Can I get it somewhere else?
These prompts should be the foundation every ad is built around.
Keep it simple
Don't try to cram too many things into one post and mix messages. If you have a lot to say, split it up and do two (or more) separate posts for different products, services, or actions you want your audience to take.
You can never have too much content.
Focus on the reader
People respond better when you talk about them, rather than talk about yourself. Instead of letting everyone know what makes your business so special, flip the script.
Paint a picture of how your products or services will improve your audience's quality of life so they don't have to make that leap themselves.
For example, instead of saying, "Our patio sets are so stylish and comfortable!", try something like, "You will love how comfortable you feel in your stylish new patio set."
If you're constantly asking yourself how your content benefits others, you'll naturally post more content that's useful to others, and you'll come across as more interested in genuine engagement.
Optimize the length of your copy for more conversions
Short copy leads to more clicks, but we shouldn't optimize for clicks when longer copy leads to more conversions. The trick is to write compelling copy that the reader wants to click to read more of – so your first line is pretty much the headline – meant to draw your audience in to the conversation.
This not only creates greater engagement with your post, but it also gives your reader the opportunity to learn more upfront. That way when they are ready to click to your website or landing page, they're better informed and more likely to act.
Stay consistent
Your social media posts should always remain consistent in terms of frequency, voice, message, and imagery.
For frequency, it's important to maintain a sustainable posting schedule to keep your content fresh and your followers engaged on a regular basis.
Depending on how quickly you're looking to build your social media presence that could be anywhere from 2 to 4 posts per week, or 2 – 4 Instagram stories per day.
Check out the data available in Meta Business Suite for insights on the best times and days to post based on when your audience is online.
Your voice should also remain authentic to your brand and your message and imagery should be cohesive across platforms including your website and landing pages.
It should be easy for a visitor to tell that they've clicked through to the right place.
While being consistent is crucial, do not to get into the habit of copying and pasting content between social media accounts.
What works on Facebook doesn't necessarily work on Instagram or Twitter. Make sure to rewrite and optimize your content based on the strengths and weakness of each platform and its audience.
Be authentic
You do you best and social media is the place to let your authenticity shine. Embrace your essence. Don't try to curate your content to be something that you're not. This includes the imagery you use. Stock photos that look too professional or generic can be a bit of a turn-off, so invest in your own photography.
Authentic photos have been proven to be way more effective for engaging interest. We all have cameras on our phones. Share those behind-the-scenes photos. Your audience wants to see the real you more than you know!
Prioritize unique content
It may not come as a surprise, but unique content gets way more coverage in Facebook's algorithms. It is fine to re-post old content that has value for your readers, just be sure to rewrite it so it is not recognized as being repurposed and gets deprioritized.
Explore posting different types of unique content too, like videos, polls, etc. to keep your page interesting and your audience engaged.
Choose your Channel
It's really important to choose the social media channels that suit your business best — and ones your team can keep up on and maintain that consistent presence in. You don't have to be everywhere at once – and you shouldn't try to.
Along with that piece of advice, make sure you're able to keep up with your posting schedule. If you choose only the channels you know you can keep up with, you're better positioned for success.
Developing a social media strategy using these approaches will ensure that you get the most out of your online presence.
With a little time and effort spent analyzing what resonates with your audience and what doesn't, you'll be able to refine your content for gradually better results.
Need help getting started with your social media strategy? Talk to us!